Ref:
Date:
Location:
Photographer:
Ref:
Date:
Location:
Photographer:
News & Events
This section highlights news and events for f4 Group members. It provides up to date information about competitions entered and their results, trips and visits being held, as well as general topics of photographic interest.
International Acclaim for Tracey Lund
21/03/19
March has been a very successful month for Tracey. We were thrilled to see announcements of her wins in the international 2019 Sony World Photography Awards which led to features in the national press, and a local exhibition of her work at the Salt Gallery, in Lairgate, Beverley. Tracey explained that "The Sony World Photography Awards are what they say - it is a worldwide competition and my image was chosen out of 326,000 entries from 200 countries. It is the biggest competition I have entered and just to get shortlisted is quite incredible." Tracey's 'Gannets feeding underwater' image taken in the Shetlands, won in the two categories 'Open Natural World and Wildlife' and 'UK National'. Just to top off everything, Tracey also learnt that she had been accredited with her Licentiateship to the Royal Photographic Society. Congratulations Tracey, from us all.
Dan Oddy Salver – success at YENRIC
11/03/19
Competed for at Howden, over the three rounds in November, January and March, f4 Group made a determined effort this year and were rewarded with success. Big congratulations to the members who contributed such high quality images as we won all three rounds. Graham Marshall was the judge for March, and awarded two 20s - to Tracey Lund and Rob Winstanley. Rob's 'Shara' is shown here, while Tracey's 'Underwater Gannets' can be seen above. Now we just have to do it again !
Image of the Year 2018
03/01/19
Our first meeting of the year always kicks off with a competition for the Best image of 2018. Only the first three placed Pdi images in any of last year's Rounds are eligible here, and made for some tough choices for our judge Ray Smith from Brooklands PS. There was never any real doubt as he chose Dave Robson's superb night scene 'The Shedmaster' as our ultimate image of 2018. Then it was the turn of the Prints…….....
Print of the Year 2018
03/01/19
............ some superb prints from 2018 tested our judge, who finally chose Jon Teal's super action shot from Jon's motorbike racing interest, called No 16. Well done Jon for adding a new name to the Print of the Year Trophy.
Three Years in a Row for our Master Printer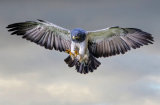 06/12/18
No sooner had we finished the Pdi rounds than it was the final round for Prints, and that man Lazenby did it again, so Paul has now held the title of 'Master Printer' for three years. Worthy winning print is the Grey Buzzard Eagle shown here. Well done Paul, and apart from the AGM, our next event will be the Image and Print of the Year competition held in the New Year. Watch this space ……
PAGB Award for Dave Robson
24/11/18
Hard on the heels of his Brian Clark Trophy win, came confirmation of the CPAGB award to our Secretary Dave Robson. Shown here is 'On the Move'. Congratulations to David, onwards and upwards …………..
Double Distinctions for Tracey Lund
24/11/18
There is no stopping Tracey Lund's success story at the moment. Tracey has been awarded the CPAGB distinction, and also the QPSA distinction by the Photographic Society of America. Shown here is a favourite called 'Fox Playing with Deer Skin'. Please look out Tracey's new website on our Links page, as well as her Gallery page here.
Three Years in a Row
15/11/18
The Brian Clark Trophy is for the winner of f4 Group's own PDI competitions held throughout 2018. No stranger to this Trophy, as our Secretary has now won it three years in succession. Well done Dave, and up the winners … !
November Competition Successes
08/11/18
November starts off with two inter-club competitions in 4 days, and this year we have been on a winning streak. The month started with Round 1 of our competition within the YENRIC affiliation, and we were pleased to do well by coming out top, with two 20s for Tracey and Chris from the judge Mike Barnard. But we cannot rest on our laurels with another two rounds to come in January and March. This was followed quickly by our annual battle with Bridlington's Focus Group, producing another win for us, gaining no less than five 20s from the judge Graham Marshall. Well done to Rob Winstanley who gained 3 of them (his Frozen in Time is shown here), Paul, and Nigel.
QPSA Award for Andrew Hersom
27/10/18
Congratulations to Andrew for his award on having Qualified for the Photographic Society of America ROPA awards. This is Recognition for Photographic Achievements, and the QPSA award requires 54x successful acceptances. His chosen image here is Ghouls at Play on their Bikes.
The Cheetah at last finds a New Home
25/10/18
Of course everybody knows that for every f4 event there has to be a competition – and the Cheetah Trophy is for the Annual Expedition, in memory of 'the Landlord'. This year Ernie Howard from Driffield PS was our judge, and after careful deliberation, chose a very misty sky-scape from our Chairman Nigel Dalton as the winner from 54 entries.
f4 Goes Off to the Seaside
04/10/18
This year's f4 Annual Expedition was based in the Essex town of Colchester. The programme had a distinctly seaside flavour, with Mersea Island boat trips, visits to Brightlingsea, Walton on the Naze pier, and sailing barges at Maldon, while the East Anglian Railway Museum offered the rainy afternoon option. This picture by Andrew Hersom, chosen later as best image of Members, shows how hard they try not to take the same photo. A big thank you goes to Chris Hatfield and Nigel Dalton for organising a very enjoyable trip.
The Rose Bowl heads across the River Humber
20/09/18
We were delighted to welcome a small group of four members who joined us from the South Bank this summer, and Brian Steeper immediately showed off his skills by winning the Rose & Crown Rose Bowl. This is awarded to the photo judged to be the best image taken during our short programme of summer outings, over the weeks of June-August.
Our Tracey is on the Telly
17/09/18
An excited Tracey Lund alerted us all on f4 Facebook that she was to be interviewed by the BBC on Look North, on her success as a wildlife photographer. This led to a massive interest in her wildlife photographs which you can see for yourselves, using the link to Tracey's new website, on the Links page – and while you are there – check out all those 'gold awards'.
Success at Sheffield - the 2018 YPU Exhibition
05/05/18
An exhibition of 3000 images from 70+ Yorkshire clubs – Pdis and prints over a broad range of categories. And our f4 Group was placed 4th in the overall Best Club results. This is due to our coming 2nd in the Pdi Trophy, and 12th in the Print categories. Five members gained acceptances for their images entered, Cameron, Chris, Dave, Paul and Tracey. Chris Hatfield won the Mabel Bruce Trophy for Best Architecture Print with 'Calatrava Magic' and gained a Certificate for his 'Black Church at Boudir'. Tracey Lund won the G G Kaye Trophy for Best Nature Image, with 'Peek a Boo', while Cameron Thomson gained a Certificate for his 'Glenshee Mountain Hare'. Congratulations to you all, and a big thank you from us. Please view the successful photographs in their special Gallery page.
Success for Tracey Lund
29/03/18
Wildlife photographer Tracey Lund is maintaining her successes with the award of a PSA Gold Medal for one of our favourite images 'On the Run'. Tracey is also one of our members on the distinction trail and we look forward to following her progress.
LRPS for Cameron Thomson
25/01/18
We were delighted at the news that Cameron Thomson's panel of prints had been successful in gaining his award of the RPS Licentiate distinction. Cameron has already indicted that this is his first step along the distinction trail. So watch this space …..
Images of the Year
04/01/18
This forms the final event for the 2017 season's competitions, as entry is restricted to the placed pictures in the series of Pdi and Print competitions of 2017. Quality will out, and the PDi chosen by our judge, Peter Kitching, was this night-time engine shed image by Dave Robson, called 'Ready to Leave' …………………………. closely followed by the Best Print competition when Paul Lazenby's 'Miss Rosie' was judged Print of the Year. This image had already won for Paul the title of 'Master Printer' for 2017, as can be seen below, and was highly praised by our judge, who is a well-regarded local portrait photographer.
The New - Master Printer Trophy
07/12/17
Up to this final of the 4 print rounds Rob Winstanley has been in front - until fate in the shape of Paul Lazenby stepped into this Portrait round. Stu kept us in suspense on the scores, only for Rob to learn that Paul had pipped him at the post by one point - and this super image of the lovely Rosie did it for him. Paul has generously sponsored the trophy too, and it is to be named – you guessed it – the Zonda Master Printer Trophy.
The Cheetah Trophy - Killarney 2017
16/11/17
The Annual Outing was in October, and probably the club's most sought after Trophy is the Landlord's Cheetah Trophy for the best photo from the Trip. Judged this year by Membership Secretary Ed Openshaw, a very high quality group of images came across the finishing line. The final winner was a very moody, fisheye view of the cloister garth of Muckroos Abbey by our Chairman Keith Beverley. Close second was a fabulous and stormy backlit shot of Fenit Lighthouse by Treasurer Phil Desforges. Third place was another image from Keith, of a family group of deer.
The Brian Clark Trophy - 2017
09/11/17
This Trophy is still based on points gained over the whole year, from eight Pdi competition rounds with subjects proposed by members. 2017 turned out to be a very close finish, with Cameron Thomson only one point behind the winner – yes you guessed it – that man Dave Robson takes the trophy again. Congratulations Dave, but well done Cameron for making a fight of it this year. Bring on 2018 !
Summer Outings Rose Bowl - 2017
02/11/17
Our Rose & Crown Rose Bowl is a much valued f4 Trophy. Although it was thought that the Summer weather had not supported our Thursday evening outings, there was a good selection of entries for Mike Barnard from f.ocus Group Bridlington to adjudicate. Popular venues involved water, both in Trinity Square and City Square, and a monochrome image of children at play by our Secretary, Dave Robson, was a clear winner. Well done, Dave.
f4 Annual Outing – Dodging Ophelia and Brian
19/10/17
The 2017 Annual Outing, attended by 8 members, was based in the Killarney area of the Republic of Ireland, held during the third week of October. In the event this was a slim window in between the most severe effects of ex-Hurricane Ophelia and Storm Brian, and the weather could have been kinder. Arrangements were shared by Alan Luckraft and Nigel Dalton, and there were successful visits to Muckross Abbey, and Killarney Cathedral, as well as outside visits to Torc Waterfall, the deer in Demesne Park and views to Fenit lighthouse. The group got on well with the owner of Crag Cave who was pleased to receive the photos, and last but by no means least – you guessed it – the Killarney Brewing Co. Thank you very much Alan and Nigel.
Guest Speaker, Les Forrester, ARPS DPAGB EFIAP BPE3
05/10/17
Our guest speaker for October was a return visit from Les Forrester. This time Les favoured us with his architectural images, and one from Berlin,entitled Zig & Zag is shown here. Of particular interest was learning of the early hours needed to secure the start images, and being treated to an insight into the post processing stages to prepare the fabulous final images. We were privileged to a super masterclass.
YPU Annual Assembly, Huddersfield 2017
13/05/17
Several members attended the 2017 YPU Assembly for the annual exhibition and awards, and were pleased by our performance in the PDI category. f4 Group were placed 8= in the PDI category, but our overall placing was affected by not entering the print category. Six members had 11 PDIs accepted, with Rob Winstanley achieving 4. Pride of place must go to Chris Hatfield for winning the award for the Best Architectural Image, with 'Bilbao', which gained him the Crowther Cox Silver Vase trophy. Also Dave Robson whose image called Olympic Pool gained a certificate, and in addition both Cameron Thomson and Paul Lazenby had images selected for the PAGB exhibition to be held later. Congratulations go to the winners, and thank you to all members for contributing to the club entry. Maybe we should enter both Prints and PDIs in 2018.
Ladies, Mermaids & Valkyries… an evening with Andrea Hargreaves
13/04/17
We are very fortunate to have been treated to a wonderful exposition of Andrea's art of composite images. We were shown the whole process from photo shoot and start image through layers of adjustments and blend modes to the final image – as well as being given an insight into the imagination that creates those images. It was great to welcome Andrea and Phil back to f4 Group, and a big thank you to Andrea for such an enthralling evening.
YENRIC - OMG !
06/03/17
Despite a valiant final charge, we came over the line a close second – 2 points behind Howden. Despite coming 1st in the General category in both R2 and R3, it was the Special subjects that let us down. In Round 3 General category we achieved an impressive 96 out of 100, with four 19s, plus a 20 from our new member Rob Winstanley's Girl in the Mirror, seen here. He has now renamed it OMG ! Onward and upward to November 2017 - let's leave 2016/17 to Memories.
Images of the Year - 2016
05/01/17
After the Annual Trophies comes the question of which image was the best of all. Divided as two contests representing the parallel streams of PDIs and Prints - who were the top dogs for 2016? Judged by our Deputy Chairman, Jon Teal won with this stylish PDi of the new Scale Lane swing bridge, which links Scale Lane with Tower Street, creating a unique pedestrian route between the city's museums in the historic Old Town and The Deep Submarium as well as accommodating river traffic and is the only moving bridge in the UK where people can stay on it as it swings. The winning Print was one of our iconic images of 2016 - Zonda, that beautiful Grey Buzzard Eagle immortalised by Paul Lazenby. Zonda heralded in a whole new generation of bird images by the f4 Group – all year we have been dazzled by birds of prey, Kingfishers, and diving Gannets. Congratulations to both Jon and Paul for taking these two trophies for 2016.
The Cheetah will not be moving ….
01/12/16
One of our most prestigious trophies is for the best image taken over the f4 Group Annual Expedition, reported earlier. This year the Cheetah Trophy competition was judged by our Hon Chairman Keith Beverley, and won by our Hon Secretary. Yes – Dave Robson keeps it for another year, with this atmospheric image of the Battle of Britain class Light Pacific 4-6-2 named Manston, acknowledged as the worthy winner. Although the winner takes all, Dave and his Cheetah were hotly pursued by Chris Hatfield and Cameron Thomson.
Master Printer for 2016
24/11/16
This year's winner of our new Print Trophy is Paul Lazenby who has impressed us all year with his bird photography. Awarded for the highest points gained from our four internal print competition rounds, Paul has chosen his latest Sparrowhawk image from the final round to represent his win.
f4's Annual Battle with Bridlington f.ocus
17/11/16
Brian Jackson from Driffield came to judge this year's home match. Brian turned out to be a good choice as we found ourselves the winners. Our 20s came from Ken Barker's Red Kite in the Rain; and Brian particularly enjoyed the prints, especially this monochrome of a Baboon Family, by Jon Teal. Well done Ken and Jon, plus all our members whose images produced this year's win.
YENRIC - Farnsworth Trophy
07/11/16
As part of the start to the YENRIC season, Stuart Walter won the Farnsworth Trophy for his image taken at the Quiraing, Isle of Skye - see News item 18/1/16. This is the first time the trophy has been won by a member of the f4 club, and is awarded for the image chosen by the judge from the previous YENRIC season's images that scored 19 or 20. And a very fine trophy it looks too ! Congratulations to Stu ……..
Round One of the 2016/17 YENRIC Competition
07/11/16
……… however, we were not quite so successful in the first round of this year's YENRIC. We are lying third, despite Nigel Dalton taking a 20 with his monochrome stairwell called 'Going Down'. Let's hope that this is not prophetic !
Brian Clark Trophy for 2016
03/11/16
After eight rounds of projected images competitions during the year, the Brian Clark Trophy was won comfortably by our Hon Secretary Dave Robson. This is our Photographer of the Year Trophy, won by the member gaining most points over those 8 rounds.
Coast & Castles – f4 Go Off To Dorset
06/10/16
This year's expedition was to Dorset, staying in Wareham, and again led my Chris Hatfield. Visits extended from Studland and Man o War Bay as well as Lulworth Cove and Swanage. Corfe Castle and Corfe station were included to photograph the steam trains. The photo shows Alan, Chris and Dave lying down on the job. Big thank you goes to Chris for all the hard work in making the arrangements.
Cameron Thomson is as Sharp as a Laser
29/09/16
Although the Summer Outings programme was not blessed with the finest weather, a very high quality of images competed for the Rose & Crown Rose Bowl competition. Judged by our Membership Secretary, Ed Openshaw, the winner was a very delighted Cameron Thomson, with his well caught action portrait from the Welton Waters sailing evening. Congratulations for a worthy and popular win.
Dave Robson achieves FIAP Excellence
01/06/16
After explaining to us the award requirements for the various PAGB, FIAP and BPE awards in February, we are delighted to congratulate Dave Robson on gaining his EFIAP award, where E stands for Excellence. This is only awarded when you have achieved at least 250 acceptances from at least 50 different images, at 30 Salons over 20 countries. Take a breather Dave, before you look at those next Seven levels. His menacing monochrome portrait is of fellow member Cain Foot.
Dan Oddy Salver – Too close for Comfort
07/03/16
Round 3 of the YENRIC saw the scores narrowing, but we held on to our First Place to the end, and winning the Dan Oddy Salver. 'Misty' – seen here – by Dave Robson was our 20 for the evening. Congratulations to everybody who took part in this competition. It will be November again in no time !!
Nothing Conservative about the Score
23/02/16
Our annual battle with Beverley PC was judged by Brian Jackson up at Beverley's Conservative Club. Brian did us proud with an away win, with no less than four 20s, scored by David, Chris, Charles and Paul - whose shot of a gannet completing its 'Successful dive' is shown here. Thanks to Beverley for a very pleasant evening.
Carla does it for Charles
15/02/16
The postponed YENRIC Round 1 was held in February, and we kept up our assault, with two 20s being scored by Keith Beverley and Charles Shepherd (whose photo of 'Carla' is shown here). Well done to all the contestants – Round 3 to go !
YENRIC – Is 2016 our Year ?
18/01/16
What a successful result – to win the second YENRIC round in such style. In the Open section of five images, we achieved 98 out of a possible 100 – where there were two 19s from Keith and Bob, and no less than three 20s from Chris, Paul and Stuart (his photo shown here). Let's make sure we keep this up for all three rounds.
Image of the Year Final
07/01/16
Brian Hemsworth, from Leeds Co-Op PS, returned to judge our annual images of the year competitions. First off were Projected images, being the winning images from our eight 2015 rounds. The winning image was a super natural shot of elephants from Bob Munby's travels, followed by Keith Beverley, and Paul Lazenby. Congratulations to Bob, our Competitions Secretary. The second part of the evening was for Prints.
Print of the Year Final
07/01/16
Although 2015 saw only four rounds of print competitions, this section caused some lengthy consideration from our judge, who 'complained' about the very high standard offered. After serious study by Brian of his final selection, he awarded First and Third place to Chris Hatfield's architectural prints, with Paul Lazenby's racing motorbike crossing the line in Second place. As this entry concludes 2015 events, I should mention that your Committee is delighted to see so many new names taking the points …... and points mean prizes. So up all those new winners !
Master Printer for 2015
03/12/15
As we got closer to our year end, we held the 4th and final round of our annual Print competitions, and it was no surprise to find that Chris Hatfield was the overall winner. The quality of his prints has drawn admiration throughout the year – well done Chris.
Zonda wins the Brian Clark Trophy 2015
19/11/15
The 8th and final round of our annual Projected Image competitions saw Paul Lazenby soar like an eagle to take the Brian Clark Trophy for 2015. Congratulations to Paul for such consistently great images.
An Away Win at Bridlington
05/11/15
f4 Group trooped up to Bridlington North Library for the annual joust with Focus Photo group, and this year it was our turn to win. Top scorers with 20s were Chris Hatfield with his misty morning Windermere image, and Dave Robson's view of the London Olympic Pool building. Well done to both of them.
Landlords Cheetah Trophy 2015
29/10/15
The closing act of the September Lakes trip was to fight over the Cheetah Trophy, awarded to the best image from the annual outing. Judged by Ken Furmage, the winner this year was Dave Robson, with this misty early morning view of Windermere. Although there is no prize for the runner-up, second place went to Neil Macfarlane with a view of Blea Tarn, followed by Dave again in third place. Congratulations to both the finalists.
Jumping Jet Skis !
08/10/15
The Rose & Crown Rose Bowl is the trophy for the Best photo from this year's fourteen Summer Outings, and our competition was judged by Peter Richardson from Brooklands P.S. Judging from the number of entries, the most popular evening was up at the Fosse Hill Jetski Centre, near Brandesburton, getting no less than 6 images into the final 11. Ken Barker was obviously delighted his image Golden Spray was chosen the winner, taking home his first f4 Trophy since recently joining us from Hull YPI.
Early Risers in the Lakes
03/10/15
A large party of f4 Group members made it to the Lake District for our 2015 'annual expedition'. Led by Chris Hatfield, and staying at a hotel in Bowness, they covered much of the Lakes from Windermere to Buttermere. Chris proved a tough leader, getting them out for early morning photo circuit training, and several members even sampled the indoor swimming pool. Everybody agreed it was a super 4-night trip and a big thank you goes to Chris for arranging it all. The photo was taken striking out for the summit – or was that just the name of the pub? Final challenge will be the photo competition for the much sought after Landlord's Cheetah Trophy.
…… and then two come along together !
17/08/15
Yet more Gold Medals for Dave Robson. In the Landscape section of the 4th South Devon Salon of International Photography 2015 his 'Mont Blanc' image has gained a PSA Gold Medal. In addition 'In His Own World' has gained a second FIAP Gold Medal, this time at the 1st International Sofia Startphoto Salon in Bulgaria, in the Monochrome class.
These are two of the highest international medals awarded, so many congratulations to Dave. For 'new readers' – PSA is the Photographic Society of America, and FIAP is the Federation Internationale de l'Art Photographique. Both medals are illustrated here.
David Holden's new wide-angle lens
06/08/15
The BBC News app runs a regular feature called Reader's Pictures, and in August the topic was "Reflections". David Holden, holidaying in Germany, took this image of the village of Bremm reflected in the River Mosel. Delighted to be selected, David said this was his first opportunity to photograph some of the area with his Canon, plus the timely purchase of a much coveted wide angle lens.
In Dave's Own World of Gold Medals
17/06/15
Congratulations to Dave Robson for gaining his second Gold Medal for a monochrome Wedding image entitled "In His Own World". This image scored maximum 15 points in the III SALÓN FOTOGRÁFICO DIGITAL ILLA DE MENORCA 2015 and was awarded a FIAP Gold Medal.
Best of the Year Trophies for 2014
08/01/15
Our first New Year meeting was seen in by our Best of Year Trophies, being judged by former member Peter Kitching. First up were winning prints from the four 2014 Print rounds, and Peter selected a metallic paper print by Dave Robson. This was an image from our evening visit to Holy Trinity, Hull, showing off that wonderful golden light we all enjoyed. It wins the new Print of the Year Trophy, and this was followed by .......................................................
Image of the Year 2014
08/01/15
……………. our top Projected Images from our eight Dpi rounds which produced some very difficult choices for judge Peter Kitching. With Dave Robson hard on his heels in 2nd and 3rd place, our judge finally selected a very 'striking' Tern image by Phil Desforges as the winner. Taken on our Farne Islands trip, this continues Dessie's run of successes in 2014, and congratulations go to them both.
E is for Excellence
11/12/14
At our 23rd Annual General Meeting, much credit was given to the members who entered the 2014 YPU Exhibition, where we were placed 3rd = in both the Jordan Trophy (for General Projected Images) and also the Fred Atkinson Trophy (for Applied Projected Images). We also came 5th in the General section for Monochrome Prints. With her image The Dancer, Andrea Hargreaves went on to win the Rose Bowl for Best Portrait, People or Figure Study. Also, congratulations go to Andrea for the award of her EFIAP, where E stands for Excellence. As Andrea and Philip Hargreaves are now leaving us, this must be a good time to say thanks for the very significant contribution they have made to our f4 Photographic Group, and its continued success.
Interclub Meeting with a Difference
05/12/14
Friday 5th December saw us being welcomed to the Chanterlands Avenue home of Hull YPI Camera Club. The f4 Group were there to showcase our club and member's work. Both Ken Barker and Keith Beverley thanked those members who attended, and took the stage to talk and show their photographs. The return visit will be in March 2015 when it will be Hull YPI's turn to entertain us at the King Billy.
PAGB Competition Success
29/11/14
Two f4 Group members did well in the PAGB Competition, with Andrea Hargreaves winning the PAGB Ribbon for The Dancer; and Kevin Davidson gained a certificate for his Leopard with Kill, in the Nature section. Well done to both.
Landlords Cheetah Trophy 2014
27/11/14
Judged by last year's winner, Keith Beverley, the Cheetah Trophy competition, in memory of the late Alan Dawson, is always keenly competed for. Keith judged this Padley Gorge mill detail by Phil Desforges the winner, followed in second place by Dave Robson. Phil has now come 1st and 3rd in the Cheetah, and was 1st and 2nd in the Rose Bowl ….. Dessie is on a roll !
f4 Group Goes Underground
09/11/14
Members took a weekend break into the Peak District, and ventured out to visit the Peak Cavern, and a trip on Peak Rail. Staying at a hotel in Buxton, they also viewed rope making in Castleton and Arkwright's Cromford Mill. Water was in plentiful supply at Padley Gorge and Ladybower reservoir. Thanks are due to Alan Luckraft for making the arrangements.
4 in a Row 4 Robbo
06/11/14
Our Club Secretary has gone and done it again. Having moved into the lead, Dave Robson clinched the Brian Clark Trophy for the 4th year running by winning the final round of our internal Dpi competition on November 6th with this image of Central Park, New York in snow.
Face on Images – Les Forrester, ARPS AFIAP
23/10/14
Our guest speaker for October 23rd was Les Forrester, from Wakefield Camera Club, who gave a talk illustrated with his distinctive style of photographs, as can be viewed on his website Face on Images. Many are in monochrome, as shown here entitled Time Waits for No Man, and have contributed to Les Forrester's awards including ARPS and AFIAP.
Dessie Does a Double
11/09/14
Mike Barnard from Bridlington Focus Group judged our Best of Summer Outings competition on 11/9/14, with the Rose & Crown Rose Bowl at stake. Once Keith had been placed third, the outcome became certain, as Phil Desforges came in 1st and 2nd. The gannets of Bempton were in abundance, so once again it is our evening trip up the coast which produced the successful image. Up the winners !!
Dave has Medalled
17/07/14
No - not 'meddled' – a proper Gold Medal. In July, the 2nd Prilep International Salon of Montenegro awarded Dave Robson its Gold Medal for Travel Photography, for this moody cloudscape over Mont Blanc. Congratulations, Dave.
Seeking Sea Eagles
28/05/14
Thanks to Andrea Hargreaves, a 13-strong f4 Group contingent visited Mull in late May 2014 to see and photograph the White Tailed Sea Eagles. Andrea arranged an amazing 3-day extravaganza, with two excursions from Ulva Ferry to photograph Sea Eagles; and a trip over to Lunga to photograph the Puffins, via Staffa to call into Fingals Cave. Plus, an extra trip to the RSPB hide in Glen More. The weather was good, the food was excellent, and we owe a big thank you to Andrea for handling all that organisation. Thanks to Stu Walter for providing the image, from a sequence which included the fish catch.
Local match won by Team f4
06/02/14
f4 Group hosted this year's battle against Beverley CC, with YPU's ex-president Brian Hemsworth travelling over from Leeds to judge. We all enjoyed an amusing and friendly evening, and were very pleased to emerge as the victors. Well done to those '20s'.
Who's a Pretty Boy !
23/01/14
Following the club's Annual Expedition to the Dales in November, the participants entered the 2013 Landlord's Cheetah Trophy competition. Secretary Dave judged, and Chairman Keith won - with this 'attractive' portrait of a Lappet-faced vulture. Phil Desforges and Ruth Openshaw came in second and third.
The one that got away .........
06/12/13
For those punters who were backing Keith to win, we thought you might like to see his best 'filly', which on the night failed to respond to the jockey's encouragement to emerge from the stalls.
Pipped at the Post – the 2013 Brian Clark Cup
05/12/13
Brian's Trophy is for Digital Photographer of the Year – covering eight rounds over the year from subjects suggested by members. Runners and riders approached the 8th fence with Keith Beverley in the lead. Due to a glitch on take-off his horse fell, leaving Dave Robson to race past to the finishing post – taking the Cup for the third year running. Less contentious was the Image of the Year competition, judged by John Brady from Doncaster on 16/1/14. The winner was Tiger Lily by Andrea Hargreaves, who also wins for the third year in succession, with Messrs Desforges, Robson & Walter all commended. Congratulations to Dave and Andrea for these very consistent performances.
When Jon went to the Salon
05/12/13
Chris Hatfield organised an f4 Group trip to the York Bird of Prey Centre on 3/11/13, where Jon Teal took this photo of a young male Barn Owl. Jon entered his image to the Wath Salon hosted by Dearne Valley CC where it got an acceptance, as did several images submitted by Andrea and Phil Hargreaves. Congratulations to you all.
Print of the Year - Phil Hargreaves - Winner 2-Years Running
21/11/13
While our annual print competitions may have got off to a slow start in the past, it would be true to say that they are now of the highest standard, as demonstrated by member's successes in both PAGB and FIAP distinctions. Spread over the club year in four rounds, our Print Competition has been won two years running by Phil Hargreaves. Seen here is this year's top print "Vestrahorn", while Phil's 2012 winner "The Empty Chair" can be seen on his gallery page.
Pie & Peas in Malham
15/11/13
The f4 Group returned to the Dales for its 2013 Expedition. Nine members spent 3-days exploring Wensleydale and Wharfedale to seek out waterfalls. There was also time for the Ribblehead Viaduct, Falconry Centre and Wensleydale Creamery. We all enjoyed the comfort and superb food at the hotel in Hawes, while the Crown next door served excellent Old Peculier. Unusually for the f4 Group, Sunday lunch was not spent in a Malham pub – but at the village hall, where the ladies were serving Pie & Peas in aid of the Philippines Typhoon Appeal. Thank you to Keith for making all the arrangements.
Moon Landscapes
03/10/13
The club was very pleased to welcome a local landscape photographer to give us a talk on October 3rd. Paul Moon lives and works in East Yorkshire at the edge of the Yorkshire Wolds. In his introduction he told us that the landscape around his local area is breathtaking, and that he strives to capture the essence of the Yorkshire Wolds throughout the seasons in his photography. Paul talked us through an excellent show of his pictures from those hidden dales within our Yorkshire Wolds.
From Flamborough Head
12/09/13
Alan Luckraft wins the Rose & Crown Rose Bowl, awarded to the Best Image from our Summer Outings of 2013 – our evening outings during May through August. Special thanks go to our judge Graham Marshall, for standing in at very short notice. Dave Robson came second with a striking view of The Deep, followed in third place by Andy Hunter with a twilight shot of rails and cobbles.
Small Club - Big Prize
05/07/13
The f4 Group continues to enter an annual PAGB competition called the GB Cup for Small Clubs, and in 2013 gained 13th place out of 75 clubs. Our most successful entry was from Andrea Hargreaves, who gained the PAGB Gold Medal Certificate – Best Creative Image – for her Tiger Lily.
Stars of the PSA
04/06/13
Earlier this year, several members have applied these successes to gain Star awards in the Photographic Society of America (PSA). They are Andrea Hargreaves (3 Star), and Philip Hargreaves and David Robson (2 Star). This qualification has several ratings based on the number of different images that have achieved a number of acceptances in the salons. For instance 2 Star needs at least 36 acceptances of at least 12 titles, whilst 3 Star requires double that. Congratulations to you all.
June 3 AFIAP 3
03/06/13
No, not a score draw, but a great result from three f4 Group members, when it was announced that they had all gained their Artist award within the Federation Internationale de l'Art Photographique. So, well done to Keith Beverley, Philip Hargreaves and David Robson for their achievements. Examples of their acceptances can be viewed in the gallery section. The next FIAP levels are E for Excellence (for which there are 4 grades), and then M for Master.
YPU Annual Exhibition & Assembly - the Great Day arrives
11/05/13
After months of organisation and management effort by our Secretary and Chairman, backed up by massive support and contribution from the f4 Group members, the great day arrived. We assembled at Hull College of Art & Design at 9.30am, all with our allotted tasks and duties. A continual stream of YPU club members viewed the Print Exhibition all morning, with only a brief respite for lunch before re-grouping at Hull Truck Theatre at 12.30pm. The Assembly was opened by wildlife photographer Andy Rouse, who went on to present the awards. This was followed by a showing of the Exhibition's Projected images. Never lost for words Andy Rouse made the whole afternoon amusing and entertaining, especially as the day culminated with a show of Andy's own pictures. The success of the day has been widely acclaimed, and the last words go to the YPU President, Howard Tate, who wrote "Thanks are also due to the f4 Photographic Group who hosted the Exhibition and Assembly this year. Those from the YPU Executive who have been involved witnessed a very slick and well organised team from f4 and I am confident you will all join me in thanking and congratulating the team for making this year's event an unqualified success." Well done Dave, Keith and all of us !
Under Starter's Orders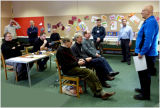 24/03/13
Thanks go to all the club members, from both f4 Group and Halifax PS, who gave up three days of their time to make the judging weekends so successful. Conducted in the Methodist Hall, Cottingham, the first session on March 16th was very intensive, to unpack and label up 1400 prints within their categories. By the weekend of March 23/24 it was the turn of the YPU judges, for both prints and projected images – with club members doing all the fetching and carrying. The photo shows the print judges and club members under starter's orders from Andrew Pell – the YPU Print section Secretary. Andrew guided us through all the stages of our tasks, with good humour and great patience. The YPU Assembly is on May 11th in Hull Truck Theatre, while the Annual Exhibition will be displayed for three weeks in the Hull College of Art & Design.
An Evening with a Wildlife Photographer
21/03/13
And what a super evening it was too – the f4 Group had taken an evening off to visit Middleton Hall, where Viewfinder PS from Skidby had arranged this evening with Andy Rouse – photographer, entertainer and raconteur. This was a brilliant evening for all photographers, and we were very pleased to have cancelled our club night so that we could attend.
"Pipped at the Post"
11/03/13
f4 Group has competed strongly in all three rounds of the 2012/13 seven-club YENRIC competitions, held over November, January and March – at Howden. Although we won the last set subject, we were pushed into overall second place "by one point", by our friends at Hull YPI. This pictorial landscape "Morning Mist" by Phil Desforges, was our high scorer in March.
Portrait of Nepal
07/02/13
The f4 Group were very pleased to welcome Andrew Chandler to give us a very personal and interesting talk on his trips, work, and climbing in Nepal. Having met Andrew at several Viewfinder PS events – our neighbours at Skidby – we were all keen to hear of his adventures, which included his ascent of an un-named peak in Nepal. Andrew Chandler is clearly in love with both the people and the country, and we look forward to hearing from him again.
"Alfie" makes Image of the Year
31/01/13
Image of the Year 2012 was open to photos which had been placed 1st, 2nd or 3rd in our many internal projected image rounds during the year. Andrea Hargreaves' Yorkshire terrier called Alfie won by a short nose, and added to Andrea's many trophies won during her very successful 2012 year.
"Skyfall" - 001 for Cain Foot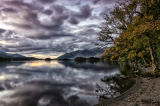 01/01/13
Congratulations to Cain Foot for his winning the 2012 Metropolitan Police Friendly Society photo competition, with his brooding scene of Derwentwater in the Lake District. The judge's comments speak for themselves. "Stunning cloudy sky with a scenic backdrop. Great setting with detailed cloudy sky that is enhanced by its reflection in the lake. The right hand side of the image with the trees, foliage and leaf strewn soil bank is quite picturesque on its own and really enhances the image."
f4 Photo Group - 21st Annual General Meeting
13/12/12
Our AGM heralded the end of an era as Ed Openshaw, Chairman from 1992 when our club was formed, stood down after 21-years service. The occasion was marked by the presentation to Ed of a very fine crystal glass carriage clock by the incoming Chairman – Keith Beverley, and an appreciation from Alan Luckraft. Keith's first year promises to be a busy one, as f4 Group is hosting the 2013 YPU Assembly and Annual Exhibition, to be held at Hull Truck Theatre in May.
Brian Clark Digital Trophy 2012
29/11/12
Long before the final round of our sequence of internal projected image competitions, Dave Robson was well ahead, and took the Brian Clark Digital Trophy for 2012. Congratulations to Dave for a consistently high performance, and we show here one of our favourites called "Wet Feet".
Landlord's Trophy 2012
22/11/12
Better known as our Cheetah Trophy, and one of the most sought after, this is awarded to the best photo taken during the club's Annual Expedition. This year it was to the Uists and Skye, and has been won by Dave Robson with an iconic view over Loch Scavaig from Elgol to the Cuillins. The judge was Ed Openshaw, and the trophy was presented by Keith Beverley – who won in 2011, and this year came in at 2nd and 3rd.
f4 Expedition to the Western Isles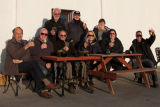 13/10/12
And it was "westering home and a song in the air" - for nine members of the f4 Group who set sail from Oban for a 5-day trip up through the Uists and Benbecula. Then "over the sea to Skye" to visit Talisker Bay and that old favourite - Elgol. As can be seen from the group shot at the Polochar Inn, Lochboisdale – the weather was almost as good as the Magners. Looking at all those shades, there may be more than Magners that is "made in the dark". A great time was had by all, and the race will now be on to win the Landlord's Trophy – the coveted "Cheetah" trophy - later in November.
Ruth & the Solitary Stalker
11/10/12
Congratulations to Ruth Openshaw for winning the "Rose & Crown" Rose Bowl for the 2012 Summer Outings competition. Always well contested, the Rose Bowl is for the best picture taken during our summer programme of Thursday evenings. Ken Furmage, from Hull YPI, judged the winner to be Ruth's image of the heron at Chowder Ness, the Solitary Stalker; while last year's winner – Phil Desforges – took second place and Dave Robson was third.
Bumper Year for Andrea Hargreaves, CPAGB, AFIAP
07/06/12
"I have had a bumper year, but it has taken a lot of work and effort. I have definitely seen an improvement in my photography and editing skills and have noticed a very significant shift in the type of image I am producing. Now I just need to keep building on the last year and remember to ENJOY what I am doing, it is very addictive!" Congratulations to Andrea for these Awards - we all admire the enthusiasm and effort that we know she has put into these achievements.
Artist FIAP - Andrea Hargreaves
04/06/12
The Federation Internationale de l'Art Photographique has several levels of award which are based on the number of acceptances you receive from selected Salons and Exhibitions throughout the world. Artist is the first level, which Andrea gained on 4 June 2012. The Danish Digital 2012 Salon awarded her mono version of "The Night is Still Young" their FIAP Silver Medal.
May 2012 YPU Annual Exhibition
12/05/12
We all remember Andrea's pleasure that her Puffin portrait called "Cheeky Face" won the September 2011 YPU Image of the Month competition on the YPU website. It went on to win Image of the Year against all the other monthly winners, so she received a medal on 12 May 2012 at Wath on Dearne at the YPU Annual Assembly & Exhibition. At the same 2012 YPU Exhibition, her colour version of "The Night is Still Young" image gained a Certificate. The f4 Group came equal 7th in the Jordan Trophy, and special mention goes to Keith Beverley, Phil Desforges, Phil Hargreaves as well as Andrea for having prints and Dpi entries held back for the YPU entry in the later PAGB competition.
Credit PAGB - Andrea Hargreaves
29/04/12
Andrea's first award this year was her Credit in the PAGB. Based on points from six judges, applied to a panel of 10 of her best images, A Kiss for Luck – shown here - received her highest score of 27 out of 30. The next level is Distinction, followed by Master.
Image of the Year for 2011
26/01/12
The f4 Group Image of the Year Trophy is open to the first 3 placed Dpi images in each of our 12 competition rounds for Photographer of the Year, won in 2011 by Dave Robson. The judge for the evening was Ray Smith, from Brooklands PS in Sutton, who finally selected the portrait Ellie by Andrea Hargreaves as his top image. Ellie had already proved successful in the 2011 YPU Annual Exhibition, when Andrea won the Jim Barker Trophy for portrait colour prints, while she had been a member of Selby CC.
The Brian Clark Digital Trophy
01/12/11
This year's competition rounds for the Brian Clark Trophy turned out to be similar to the 2011 F1 World Championship races. Dave Robson pulled well ahead in the league table, much like Sebastian Vettel, and the title had been won long before Round 12. Well done to Dave for a very consistent performance over the year, and the title Photographer of the Year.
Cheetah Trophy goes to Keith Beverley
17/11/11
The finale of the Annual Expedition is to compete for the handsome Landlord's Cheetah trophy. Ken Barker from Hull YPI judged the occasion, and made Keith Beverley the winner with his evening Bamburgh Castle image. Runners up were Phil Hargreaves and Andrea Hargreaves with images from Alnwick gardens and Cragside.
A home win at the King Billy
10/11/11
We were pleased to welcome a strong contingent from Beverley Photographic Club, for our annual inter-club DPI battle, to our new rooms at the King Billy, in Cottingham. Peter Richardson from Brooklands P.S. was the judge, and we were pleased to be on the winning end of his judgments.
A pleasing first result at the YENRIC
07/11/11
We received a friendly welcome at our first skirmish at Howden, as one of seven clubs competing in the YENRIC competition group, especially as we came 1st = with Sherburn Camera Club. We now have to maintain this standard for the remaining two rounds in January and March. Both Dave Robson and Alan Luckraft did well in the set subject of Urban.
Dyer knaa the way te Rothbury ?
29/10/11
The Annual Expedition this year was 5 days up in Northumberland, when 12 club members enjoyed the visits to Tynemouth, Cragside, Alnwick Castle Gardens, Holy Island, Seahouses and Craster. We spent many happy hours on the foreshores at Bamburgh, Lower Newton, Embleton and Dunstanburgh. Special thanks go to our Secretary's wife, Carol Robson, for the excellent hotel and dinner arrangements. Although Hugo was not with us, we did enjoy his lunch spot. Eeeh man, ahm gannin te the booza !
Dessie takes the Rose Bowl
13/10/11
The Rose & Crown Rose Bowl trophy, for the best image from the club's Summer Evening outings during May-August, is always strongly fought over. Judged by Peter Kitching, the winner this year was Phil Desforges. Despite some distant venues, this year's top photos came from close to home – taken on the Humber Bridge and at Skidby Mill. Runners up were Dave Robson and Hugo Schlechter.
Andrea - f4's Own Cover Girl
10/09/11
Congratulations go to Andrea for one of her photos appearing on the cover of Amateur Photographer magazine. Andrea and Phil Hargreaves had attended the Tom Mackie class for four AP readers on Landscape photography in North Yorkshire. Several of their photographs illustrated the resulting article. Andrea was quoted as finding "the day relaxed and informative. We learned how to use graduated filters and their benefits in landscape photography".
New rooms for the f4 Group in Cottingham
01/09/11
The start of September saw us returning to indoor meetings, and the club held its first session at the King William IV pub in Hallgate, Cottingham. This is our new meeting place, and gives us more seating and space as the membership grows.
Image of the Year 2010
03/02/11
This Trophy goes to the best image drawn from all images to have been placed 1st, 2nd or 3rd in any of the rounds of our internal club league, and included both Dpis and Prints. Judged by Jack Hyman, the winner was never in doubt as Keith Beverley came First and Second. Runner up was Phil Desforges with a print from our new Print Competition introduced in 2010.
YENRIC Competitions
17/01/11
Following the member's decision taken at our December AGM to leave the YCPG, the club's making up the York, East & North Riding Inter-club Competition group have invited f4 Group to compete within their competition circle. This will reduce our competition calendar as YENRIC compete each November, January and March at their Howden venue.
BBC Countryfile
30/11/10
Our Chairman, Ed Openshaw, enjoyed a small success recently when the November 2010 issue of BBC Countryfile magazine covered the East Riding, and featured one of Ed's Wolds pictures.
The Cheetah Trophy 2010
25/11/10
The Landlord's Cheetah Trophy – always a sought after Trophy, this is awarded for the best image taken on the f4 Group Annual Outing. This year's competition was judged by our Competition Secretary Bob Munby, and the Trophy went to Phil Desforges, with Keith Beverley and Dave Robson the runners-up.
Photographer of the Year 2010
25/11/10
In the lead for much of the year, the final round of our internal competition league saw Keith Beverley take the f4 Group's major trophy. Congratulations go to Keith whose images were always innovative and well crafted.
f4 Annual Outing goes to North Wales
17/10/10
This years's trip, organised by Keith Beverley, saw the f4 Group returning to North Wales for four days. Based in Beddgelert, the eight "mountaineers" visited such photogenic venues as the Snowdon Railway, Portmeirion, Swallow Falls, Slate Caverns, Fairy Glen, and the Great Orme. Good company, good food, good drink.
Rose & Crown Rosebowl goes to Dave Robson
23/09/10
The Summer Outings competition was judged by Peter Richardson, and entries were open to images taken over the group's Summer Evening venues. The winning entry came from Dave Robson, with runners up Bill Straw and Ruth Openshaw. The images are displayed in the Winner's Gallery.
Success - Success !!
10/03/10
Double success for the f4 Group - with a win against Focus of Bridlington on 4/3/10 where both Keith and Phil gained the maximum 20 points; and a win at our 3-way competition at Willerby on 10/3/10 against Willerby CC and Hull YPI. The win at Bridlington was especially sweet as for the first time ever we went ahead in the print section.
YCPG Trophy - Innovative Images
21/01/10
The f4 Group hosted this YCPG competition for Innovative Images. Winner was our own Keith Beverley with his 3D triptych image of sealife. The judge Peter Richardson was indisposed so his notes were read by Bob Munby, and the Trophy was handed on by last year's winner, Bill Straw - which turned it into an f4 evening.
The end of an era - now onward & upwards for those Dpi Aces
10/12/09
At our AGM it was decided that we would not hold competition rounds for slides in 2010. It was a hard decision, as the f4 Group were primarily noted for our slide competition entries since our formation back in 1992. However with the conversion to digital photography, club members were no longer taking new slides; and the slide rounds were becoming a pleasant stroll down memory lane.
2009 Photographer/s of the Year
03/12/09
This will be the last year when the title can go to two club members. In our twin-track annual competitions for film slides and Dpi's, the trophy for slides went to Dave Robson, and the Brian Clark Trophy for Digital Photography went to Phil Desforges. The Image of the Year Trophy, open to all winning pictures from 2009's rounds, went to Ed Openshaw.
2009 Landlord's Cheetah Trophy
12/11/09
The f4 Group Annual Trip was to the Lake District in September. As usual the Cheetah Trophy was hotly contested, being won by Brian Clark with his evening view of Derwentwater. Runners up were Phil Desforges and Keith Beverley.
2009 Best of the Summer Outings
08/10/09
The Rose & Crown Rose Bowl went to Ruth Openshaw this year, with her Waters Edge Centre roofline image judged first by Ray Smith. Placed second was North Landing by Bob Munby and third was Bill Straw with one of his floral images of a Rose.
Getting into our stride with Digital
05/03/09
We were pleased to chalk up some wins this season in our inter-club competitions. On 17/2/09 we won the Dpi battle against Beverley Camera Club. On 5/3/09 we managed a win against Bridlington's Focus Group in a mixed print and Dpi competition. We hold both a home and away competition each year with Focus - and remarkably over many years - honours remain drawn.
Image of the Year 2008 - won by Alan Luckraft
29/01/09
Winners of the first 3 places in our internal competition rounds are eligible for this final, judged by Peter Kitching. As these include both our 35mm slide and Dpi rounds it makes for an exciting competition - and for the second year running has been won by a 35mm slide - taken of Loch Morvich up in the Grampians, on an f4 Group photo trip by Alan Luckraft.
Bill Straw wins Trophy for Innovative Images

13/01/09
Competing for the YCPG Trophy for 2009 up at Hunmanby, the new subject was Innovative Images. It came as no surprise to the f4 Group that the winner was our own Bill Straw with his image Cafe Espanyol. Bill has been one of the leaders into Digital imaging at our club, and is noted for his Painterly effects, use of Buzz filters as well as frames and borders.
Photographers of the Year - yes - 2 of them !
11/12/08
Both tracks of our Annual competitions come to a head in December. We have maintained a 5 round Slide competition in parallel with an 8 round Dpi competition during 2008. Ed Openshaw came first in the "old" Slide Photographer of the Year Trophy dating back to 1986, followed by Dave Robson and Alan Luckraft. While, Dave Robson led the field for the "new" Brian Clark Digital Photographer of the Year Trophy, followed by Ruth Openshaw, and Ed Openshaw. However, there can only be one winner in the Image of the Year competition.
The Landlord's CHEETAH Trophy
06/11/08
Always hotly contested, the Cheetah Trophy is for the best photo taken on this year's 8-man 4-day annual trip. The winner was Dave Robson for his super contre jour monochrome study of a fisherman at work in Plockton. David was always taking home the Cheetah Trophy, as his beautifully composed Autumn landscape of Rannoch Moor was judged second. Third place was taken by Stuart Walter with a menacing view across to the Cuillins from Elgol. The judge for the evening was Ed Openshaw ARPS, who also commended a polar coordinate creation by Phil Desforges.
f4 Group takes the high road to the Isle of Skye
12/10/08
October 12th saw eight members of the f4 Group making a 4-day photo trip up to Skye. Arranged by Alan Luckraft, the party stayed at Dornie. The two visit days included Plockton and Eilean Donan castle on the mainland, but mainly concentrated on Skye. They "photo-stopped" at the Quiraing, Old Man of Storr, and Kilt Rock; as well as Elgol and Sligachan, but managed to include the obligatory visit to the Talisker Distillery. The trip also included stops for Glen Coe and Rannoch Moor en route. The event does not end there - as there is still the Cheetah Trophy to compete for, with their best photos taken over the four days.
Bill Straw takes home the f4 Rose Bowl
25/09/08
As a reminder of our days at the Rose & Crown in Beverley, the Rose Bowl Trophy has always been awarded for the best picture taken during one of our Thursday evening outings over the summer months. This year saw a very high standard of dpi's judged by Ruth Openshaw. The superb winning picture of the Gull in Flight came from Bill Straw, who also took 3rd place, while a Reflection shot from Dave Robson at Bridlington harbour, came 2nd. The winning pictures can all be seen in the winner's gallery.
YPU Annual Exhibition 2008
10/05/08
Three members distinguished themselves at the YPU exhibition at Holmfirth. In the Jordan Trophy the club came 6th= and this should be seen in the context of 37 club entries stetching from Harrogate to Sheffield, and Hull to Halifax. Images are marked out of 15 rather than the usual 20, and Ruth Openshaw gained 14 for View from Tate Modern, Phil Desforges, 13 for On the Face of It which also gained the distinction of a Certificate, and Brian Clark, 12 for Saltend. Their pictures, which were all dpi entries, can be seen in the Winners Gallery.
Image of the Year 2007
31/01/08
Winning pictures from our twin-track 2007 slide and dpi rounds were eligible to compete for this title and trophy. Winner was Ed Openshaw with his Autumn slide of Brantingham Dale. Runners up were Bill Straw and Ed Openshaw with digital images. For 2008 there will be 8 dpi rounds compared to 5 slide rounds, which may make it tougher for a slide image to win in the future. However the club members maintain their support for the slide rounds continuing through 2008.
Summer Views of Herm Island
03/12/07
Congratulations to Ruth Openshaw on her win in the Herm Island competition for Summer Views of Herm. Her Shell Beach landscape came 1st from 400 entries, the prize being a week's holiday back on Herm Island, just off the coast of Guernsey.
Photographers of the Year
29/11/07
In November we reached the final rounds of our twin track Photographer of the Year competition. 2007 is the first year there have been five rounds each, during the year, in both film and digital. Taking first place in Projected digital images was Ed Openshaw, followed by Dave Robson with both Ruth Openshaw and Bill Straw in joint third . First in Slides was Dave Robson, followed by Ed Openshaw and Alan Luckraft.
Rose & Crown Rose Bowl
22/11/07
The Rose & Crown Rose Bowl for the best pictures taken during our Summer Outing evenings was won this year by Ed Openshaw with his picture of the factory at Brough Haven. Ed also took second place, with Bob Munby coming in third.

The judge for both competitions held on 22/11/07 was Ken Jackson FRPS. You can see all the winning pictures in the Winners Gallery.
Landlord's Cheetah Trophy
22/11/07
The Annual Expedition Trophy - the Cheetah - was won this year by Dave Robson with his slanting light on trees image from the top of Kilburn White Horse. Runner up in both second and third place was Bill Straw.
f4 Annual Trip 2007
23/09/07
Five go off for 5 days in Yorkshire with the Annual Trip for 2007 being arranged by Alan Luckraft for September. The trip ranged all over the Dales and North Yorkshire Moors, from Appleby to Hawes, the waterfalls of Hardraw and Aysgarth, and taking in both Settle to Carlisle and NYM railway trips. Including Leyburn, Kilburn and Saltburn, the trip culminated in fish and chips at Whitby.
WIN ! WIN ! WIN !
07/03/07
Yes, that's right - three wins in 3-weeks. In what might prove to be our last run of inter-club slide battles, the f4 Group chalked up triple success. Bridlington Focus Group on 15/2/07; Beverley Photographic Society on 1/3/07; the three-way against Hull Photographic Society and Willerby Camera Club on 7/3/07. Clubs are finding it difficult to field slide entries so the tide is turning in favour of digital projected images for the 2007/08 season.
Photo of the Year 2006
22/02/07
In February we held the play-off of all winning pictures from our 2006 competitions to see which would be judged Photo of the Year. The winner was Ed Openshaw ARPS with an evening beach scene from Arran. The judge was Peter Kitching. The top three placings can be seen in the Winner's Gallery.
f4 Photographer of the Year 2006
14/12/06
The 12th and final round of our annual slide competition was held on 14/12/2006. The overall winner was Ed Openshaw ARPS with 90 points, and Ed retakes the title f4 Photographer of the Year after a break of two years. In second place came Dave Robson LRPS with 70 points, followed by Alan Luckraft in the third place with 60 points.
Dessie takes the Cheetah back home .....
30/11/06
The Landlord's Cheetah Trophy is won by Phil Desforges for the second year running. Always hotly contested after the Annual photo trip, Phil won with a superb night shot of the Mont St Michel, taken during the recent f4 Group expedition to Brittany.

Second place went to Brian Clark with a moody B&W image, while third place went to Dave Robson LRPS with a tightly cropped picture of roof tops. The judge was Ed Openshaw ARPS.

See these photos in the Winners Gallery.
Another win for f4 Group
02/11/06
November 2nd saw a win for the f4 Group over our rivals from Bridlington, the Focus Group. This was one of two contests we hold against them each year, in mixed slides and prints. The judge was Peter Kitching.
Great slide lecture by Derry Brabbs
28/10/06
Several members travelled to Sewerby to attend the very interesting slide lecture by Derry Brabbs. The evening was arranged by the YCPG, and Derry Brabbs is well known as the photographer illustrating several Wainwright books of walks in the Lakes and Dales.
Brigg Trophy comes home to f4 Group
24/10/06
Welcome success came to us in the YCPG's major annual slide competition held at Hunmanby. The f4 Group has now won the Brigg Trophy 7 times in the last 12 years.
f4 Group Annual Expedition
15/10/06
Led by our Secretary Dave Robson, six members of the f4 Group left for a 6 day trip to Brittany. Visiting St Malo, Dinard, Dol de Bretagne and the famous Mont St Michel. Good photography, food and company.

See late November for result of best picture competition - this will be for The Landlord's Cheetah Trophy.
Bill Straw wins Rose Bowl Trophy
28/09/06
Bill Straw wins the Rose Bowl Trophy, originally donated by the landlord of the Rose & Crown, Beverley. Hotly contested slide competition of pictures taken over the 14-week period of our Thursday evening photo outings. Bill won with a very carefully composed view of a Bishop Burton cottage reflected in the pond. See it in the Winners Gallery.
Results from the YPU Annual Competition
06/05/06
Held this year at Todmorden, the f4 Group came 2nd Equal with Ilkley and Pudsey in the Jordan Trophy for slides. Winners this year were Doncaster. Special mention goes to Ruth Openshaw, whose Folding Wolds picture was held back by the YPU for their PAGB entry.